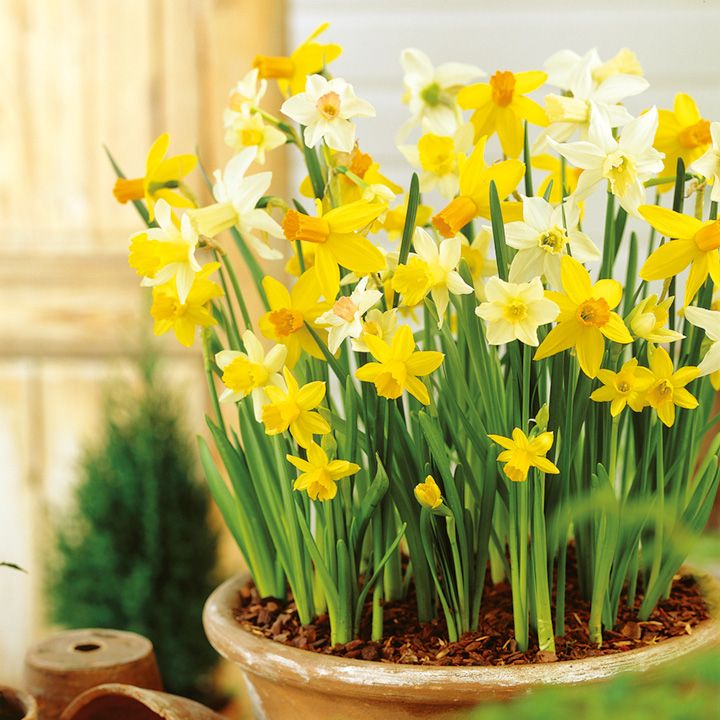 We are still in the depths of winter. Most days are cold, wet, windy, and unbearably dreary. If you look outside, your garden is likely to be a soggy wasteland, devoid of colour. In fact, unless the sun pops out, it's much better to stay indoors!
January is one of those months where everyone could do with a reminder that Spring is just around the corner. It isn't unheard of for early spring bulbs to be emerging in the garden if the weather has been mild, but it will be a few more weeks before you can look outside and enjoy your snowdrops, daffodils and other spring bulbs. So, for now, why not brighten up your home with some potted bulbs instead?
Potted bulbs add a touch of colour to any home. It's a quick and easy way of adding spring colour and fragrance, even when it's horrible outside and the forecast predicts heavy rain, wind, ice, and snow (not necessarily in that order). When planted outdoors, spring bulbs begin to flower in early March onwards, but they can be forced to flower much earlier indoors.
Our Favourite Spring Bulbs
Here at Carpenter's Nursery, we stock a great selection of potted spring bulbs in a wide range of colours, so you will be spoilt for choice. Here are our favourites:
Hyacinth – Hyacinths are a popular potted bulb. Hyacinths are available in a range of pretty colours: white, pale pink, lavender, purple and blue. The flowers have a gorgeous scent, so place a pot of flowering hyacinths on your kitchen windowsill and you will be greeted with an explosion of perfume first thing in the morning.
Daffodils – Daffodils are the epitome of spring colour. You will have to wait a couple of months for the full display outside, but you can have a head-start on spring with a pot of forced daffodil bulbs in your home. Dwarf varieties look beautiful and will brighten up any room.
Tulips – Who doesn't love tulips? Glorious tulips come in a kaleidoscope of colours, so mix and match to suit your home's décor. Small varieties in pots will brighten up any room and help you make it through to spring.
Muscari – Muscari looks a little like hyacinth, which is why you might know them as a Grape Hyacinth. These dense blue flowering bulbs grow well in pots and when placed on a sunny windowsill, will lift your mood and remind you that spring has almost sprung.
Narcissi – Celebrate the imminent arrival of spring with a pot of narcissi bulbs. Bright white narcissi will add a blast of freshness to any room and match any decorative scheme.
Outdoor Bulbs
There are plenty of bulbs you can plant outdoors, in containers, or in flower beds. If you missed the opportunity to plant bulbs in September/October it's not to late. At Carpenters, we have a good selection of shooting potted bulbs that can be planted now. Daffodils and tulips are among the most popular and will give a great show from spring onwards. Snowdrops are ideal for those shadier areas under trees etc.
Once you have planted your bulbs, keep the weeds at bay by spreading a thick layer of mulch over the top of your bed or container.
Taking Care of Spring Bulbs
Once your bulbs have finished flowering, there's no need to throw them out. Lift them from the pot or the garden, dry them out, and store them in a cool, dark place for a few months. You can then plant your bulbs in the garden or in containers and enjoy another riotous display of colour next year.