Carpenters Nursery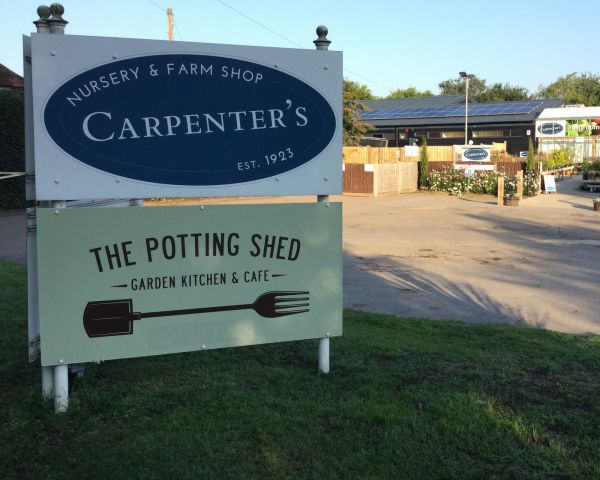 Carpenters Nursery
106 St Albans Road
Sandridge
St Albans
Hertfordshire
AL4 9LJ
Carpenter's Garden Centre & Farm Shop is located in St Albans, Hertfordshire. We have ample free parking (Max stay 2Hrs), including disabled parking and loading bays. The site is on two levels, with concrete ramps joining the two and is easily navigable for wheelchair and buggy users. We also have a wheelchair available to use.
We have public toilets (including disabled) & nappy changing facilities). Dogs are welcome in the shop and café but must be kept on a lead. Restrictions apply to certain tables in the café and meadow. Please check our bookings policy when making a reservation.
Deliveries- We can deliver heavy or bulk purchases to customers living within 2.5 miles of our site for a £10 charge (Minimum delivery value £100 Zone 'A' & £200 Zone 'B'. Please contact us to identify which zone you are located within.
Carpenters Nursery Ltd, Registered in England & Wales No.9773366
Opening hours
Monday:

09:00 - 17:30

Tuesday:

09:00 - 17:30

Wednesday:

09:00 - 17:30

Thursday:

09:00 - 17:30

Friday:

09:00 - 17:30

Saturday:

09:00 - 17:30

Sunday:

09:30 - 16:30
Bank Holiday Opening Hours 9.30am- 4.30pm
Contact Us
If you have a non-urgent enquiry, we suggest that you complete and submit the form below. We endevour to reply to enquiries as quickly as possible, but please be aware that during busy times and especially on the weekends, we may not be able to reply until the end of the afternoon. As our counter staff may also be busy serving customers during the day, it may take some time to answer the phone. We recommend calling before 10am or after 3pm when it it quieter when making enquiries by telephone.