Rose Bushes & Climbing Roses
Roses are still the nation favourite flower. Their fabulous blooms come in many shapes, sizes and colours and quite often have a delicious scent too.
At Carpenter's garden centre in St Albans, we offer a great range of UK grown plants including Floribundas, Hybrid T's, Patios and Climbing roses. We also stock a range of 'Occasion' roses named specifically for gifting, such as 'Happy Birthday, 'Golden Wedding' and 'In Loving Memory' to name a few.
If scent is important to you then look out for our 'Perfumed Collection'. These specially selected varieties have some of the strongest perfumes of any roses and are usually available for purchase towards the end of May.
Roses require a bit of love and attention, and most need regular pruning and feeding to encourage them to keep flowering. To help keep your roses healthy and free from pests, we can provide you with all the necessaries such as RoseClear and Rose Food from the market leading manufacturers, as well as organic manure and mulch for autumn feeding and preparation.
Our horticultural team are always happy to provide advice or feeding, spraying and how to prune them to ensure great blooms in following seasons.
Red Bush Rose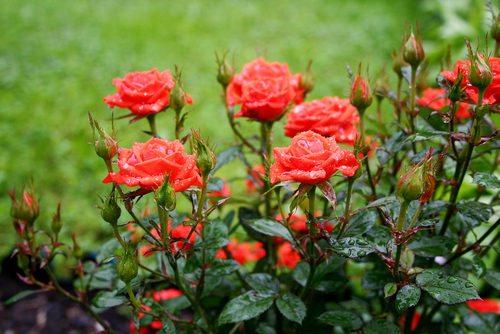 Pink Bush Rose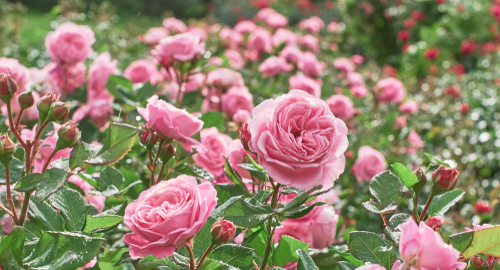 Climbing Rose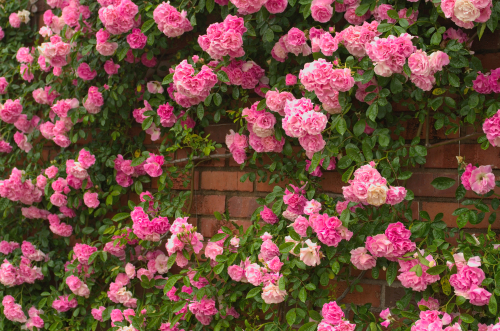 Rose border