Christmas Trees
Nothing quite encapsulates the smell of Christmas like a freshly cut Christmas tree in your home. The majority of our non-drop Christmas trees and all our traditional Norwegian spruce Christmas trees are grown sustainably in Hertfordshire, being cut and delivered within 24 hours we guarantee that our Christmas trees are the freshest in the area.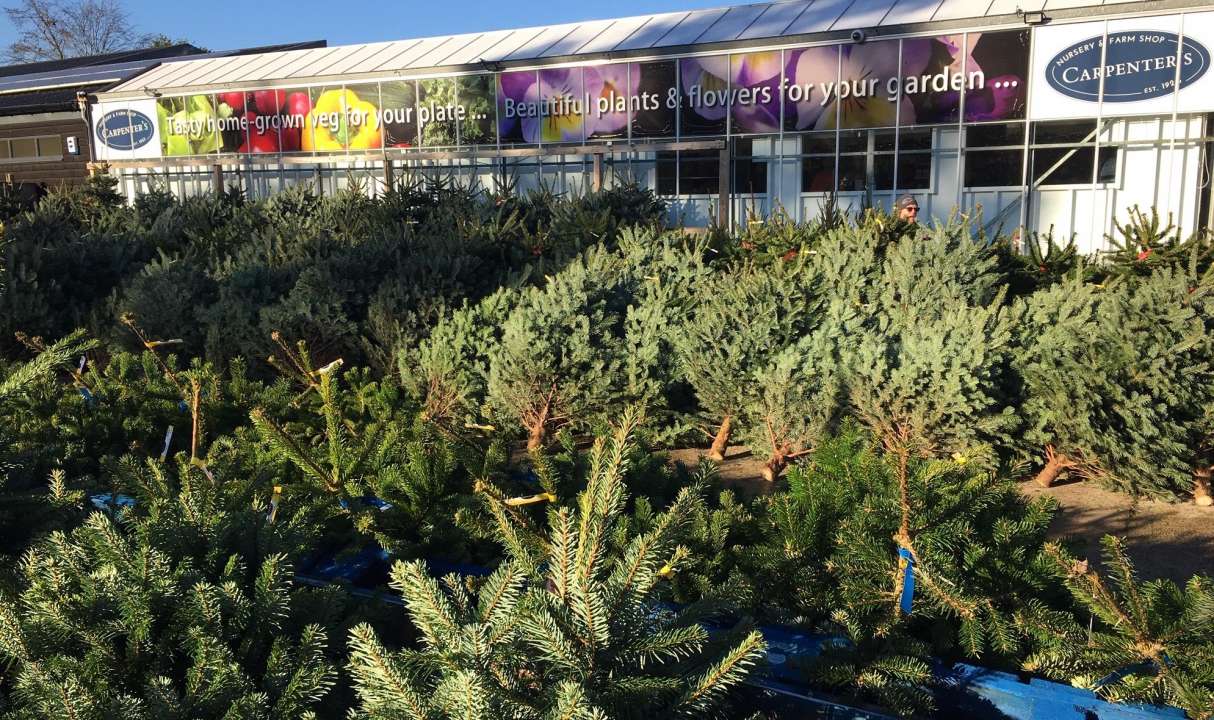 At Carpenter's Nursery we are the destination of choice for quality- real Christmas Trees & wreaths in St Albans, Harpenden, Welwyn and surrounding villages in Hertfordshire. We have trees available in all different shapes and sizes ranging from 2ft-10ft (50cm- 3m) high. Whether you're looking for a freshly cut, pot-grown living tree, or non-drop tree, with a huge selection, we'll have the perfect tree for you!
We have a team of friendly experienced staff on hand to help choose your special Christmas tree, net it and load it in your car. Its all part of the service! We can also deliver Christmas Trees to customers located with 2.5m of our site
The Norway Spruce (Traditional Christmas tree)
The classic Christmas tree with a lovely pine forest fragrance, available as a cut tree or pot-grown which can be planted in the garden afterwards. Cut trees not renowned for needle retaining qualities (especially if you like the thermostat turned up) it is advisable not to bring them inside too early. Bringing inside from the 15th Dec should ensure that it doesn't drop too much.
The Nordmann Fir (Non-drop Christmas tree)
Now the most popular Christmas tree, these trees are great at keeping their needles which are longer and thicker than the traditional Norway Spruce. They will be fine indoors for 3-4 weeks if cared for properly so the best choice if you've got little ones who can't wait for Christmas to begin! Although not hugely fragrant, they do still have a slight aroma to give your home that festive feel. Depending on how they are grown, they can be quite broad and bushy at the base so make a great impact in a large room.
We also have a great selection of Christmas tree decorations, lights and stands as well as wreaths and holly.
Come visit us and give your home that lovely festive feel!