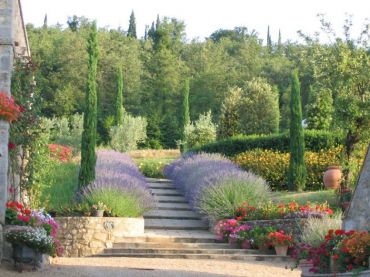 Tips to Create a Tuscan Italian Garden
The Tuscan landscaping style combines iconic plants such as rosemary, lavender, and Italian cypress with warm Mediterranean colours like natural stone, terracotta planters and bold flowers that will stand out beautifully in the warm sunshine. If you want to bring a little taste of Italy into your garden to make it feel like you are on holiday every time you step outside, you might want to consider creating a Tuscan Italian garden at your home.
There are several things that you can do to being a little bit of Tuscany into your life by adding the right plants, materials, and style to your outdoor space. If you can't wait to get started, we've put together some do's and don'ts to keep in mind to a stunning garden.
Traditional Plants
Adding traditional plants and shrubs to your garden is important to provide that Tuscan feel Olive and bay trees, grape vines, agapanthus, and rosemary are just some of the plants that you would expect to find in Tuscany, so make sure that they are taking centre stage in your outdoor space. We stock a good range of these plants from March- October.
Italian Cypress is a gorgeous plant to add to complete the look, and you can use a range of stylish upmarket shrubs along the borders or to create different sections of your garden for relaxing, dining, planting flowers, etc. Add some Mediterranean herbs to your garden, such as sage and lavender, to bring the sensory experience of Tuscany to your back garden and create a true Italian paradise at home. They can be put to use in the kitchen when making delicious Italian dishes to enjoy outside in the summer.
Ornamental Grasses
You can modernize the Tuscan theme of your garden by using ornamental grasses. This will add a flowing, bold element to your outdoor space and help soften the natural stone that is often found in traditional Tuscan design. If you are planning to add a lot of natural stone and terracotta to your garden to get a traditional Tuscan design and atmosphere, grass can provide a soft balance with texture and colour in the space and help to break it up.
Amend Planting Beds
Before planting new plants, refresh your borders with new compost and maybe some manure if you are planting mature shrubs and trees to ensure your Tuscan garden plants get off to the best start in life. When first planted, even some of the most drought-resistant plants such as olives and lavender will need a good soak, so water well. It generally take a season for plants to root well so keep a close eye on them and water more frequently in the first year.
Warm Colours
Choose warm colours for your patio materials and stone when designing your Tuscan Italian garden. Santa Barbara cobble, gold granite, and decomposed granite are just a few ideal options that will often be found in gardens and outdoor spaces in Tuscany, however, you can feel free to select any stone that is available to you and within your budget, as long as the colour is a warm rather than a grey shade. Cotswold stone is a good alternative and is readily available in UK garden centres.
Avoid Pastels
Pastel colours like baby pink might look nice but they are not always the best fit for a Tuscan-style garden since they can look washed out during the summer under the hot sun. For a real Tuscan vibe, go for brighter colours like hot pink, yellow, vibrant orange, and red to create a stronger contrast with the colours of your traditional Tuscan flowers and plants that tend to have a silver foliage.
Avoid Greys
As mentioned earlier, warmer colours are ideal when it comes to choosing the stone that you will use for your patio and other features in the garden. And this should be extended to whenever you are choosing gravel, rock, concrete, and other materials.
Replace Your Lawn
While ornamental grass can look great in a Tuscan garden environment, don't be afraid to swap your lawn for a more colourful landscape inspired by the Mediterranean. This can be an especially good idea if your lawn gets quite water-logged during wet weather or takes a lot of water to maintain throughout the summer. An established landscape requires a lot less care and maintenance compared to a lawn and uses around half the amount of water.
Add Italian Accessories
Finally, consider adding some Italian-style accessories to your outdoor space. This will complete the look and provide an authentic feel. If you want to create an outdoor dining area, for example, adding a marble water fountain or figurine will set off a gravel or patio area.
More Tips to Consider
While Tuscan plants are an ideal choice, don't shy away from adding some native plants to your garden too since they will be well-suited for growing in this environment and can be used within any style of landscape.
Many people are interested in the Tuscan landscaping style and design because Mediterranean plants and shrubs are not only gorgeous to look at, but they also tend to be very low-maintenance and sustainable. Along with the warm colours that are traditional to this style, you can easily create an inviting outdoor space.
If you need advice on planting, just ask one of the Carpenter's team!