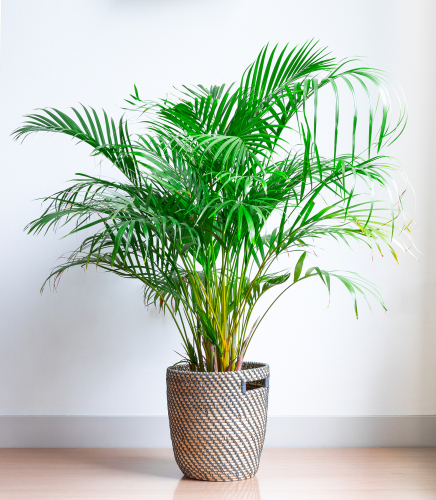 Indoor plants offer more than an aesthetic improvement to your home. Choose the right plants and you can enjoy some health benefits and even boost your mood. Carpenter's Nursery stocks a great range of house plants, so read on for a guide to help you choose the right ones.
Why Indoor House Plants are Good for our Mental Health
With so many of us are spending a lot more time at home, it's a perfect time to improve our living space. The good news is adding a few house plants to your home can improve your health too.
Plants improve air quality in our homes. Just as they do outdoors, green plants filter out toxins from the air and oxygenate the atmosphere. If you live in an urban area, it's definitely worth buying plants to clean volatile organic compounds from the air in your home. Plants also help to remove toxins from cleaning products, paint, and aerosols.
As well as cleaning the air in your home, plants also offer mood-boosting properties. Scientific research has shown that exposure to house plants lowers blood pressure and reduces anxiety. Their oxygen output can also make us more productive, which is a bonus! If you are stressed with work and lockdown worries, a few house plants might just help you feel happier and less fatigued.
Here are some popular easy to keep indoor house plants to boost your mood:
1. Aloe Vera Plants
Aloe Vera plants are very low maintenance and don't need much water. You can place them on a sunny windowsill and forget about them. The great thing about an Aloe plant is that the gel from its stems can be used as a skincare treatment. Slice a piece of Aloe, scrape the gel out, and apply it to minor burns, dry skin patches, and spots.
2. Snake Plant
The Snake Plant is another succulent type of house plant that requires very little water and is happy in a sunny location. They are also a good choice if you have allergies, as they add moisture to the air and reduce the effect of dust and other allergens.
3. Cacti
For the ultimate low-maintenance plant, cacti can't be beaten. Most cacti don't need water much at all, and a quick spritz now and again is enough to keep them happy and healthy. Buy a selection of small potted cacti and arrange them in a group – they are very Instagrammable!
4. Canopy Plant
The Canopy Plant or Monstera Minima is a smaller cousin of the much-loved Cheese Plant. These plants are very attractive and can be trained to grow along shelves. They grow rather large if kept in optimum conditions, so bear this in mind if you live in a small flat. The leaves are also toxic, so it's not a good choice for pet owners.
5. Potted Lavender
Lavender has a wonderful fragrance and is a good choice if you are feeling stressed.
Always research a plant before you buy or ask us for advice. This is especially important if your cat loves to chew on green leaves!