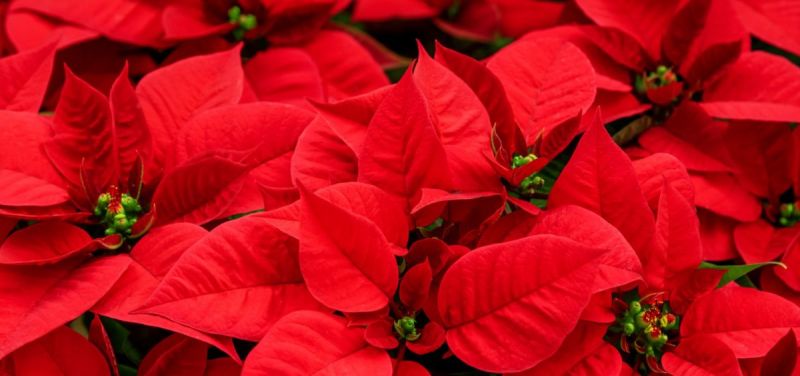 Christmas is nearly here, so many people are looking for lovely decorations to brighten up their home. Aside from the usual accessories, like Christmas trees and tinsel, we recommend you consider investing in some seasonal house plants. If you're not sure which ones to go for, read on for a quick guide to some of the most popular seasonal plants.
Poinsettia
With their luscious red leaves, poinsettias are a seasonal favourite. This gloriously festive plant is a native Mexican, where it grows to gigantic proportions in the wild, but here in the UK, we usually buy poinsettias in pots.
As you might expect, poinsettias like lots of natural light and warm temperatures during the day. Place your potted poinsettia in a bright place, preferably not next to a radiator or fire. Keep it moist but don't overwater it – if your plant ends up sitting in water, it will die before the holidays are over.
When looked after correctly, a poinsettia will enjoy a long life. Water the plant less often once the leaves drop and trim it back in spring. They like don't like the cold so keep away form drafts, external doors and windows.
Note that poinsettias are slightly toxic so keep out of the way of pets.
Cyclamen
Cyclamens are another really pretty plant. Cyclamens come in many different varieties, including lots of new hybrids, but all have attractive variegated leaves and pretty pink, red, or white flowers.
This plant is native to Mediterranean regions and likes direct or undirect sunlight. When well cared for, cyclamen will flower for up to 8 weeks. Once your cyclamen stops flowering, you can trim it back and remove the bulb, leaving it to dry out. It can then be re-potted in the summer and should begin flowering once again next winter.
Cyclamens look lovely in pots and borders, so once Christmas is done and dusted, save yours for the garden. Though they can be planted outside, choose a sheltered spot as they aren't frost hardy.
Christmas Cacti
Christmas cacti or Schlumbergera flower just before Christmas, hence the name. They will produce pretty- red, yellow, pink, and white flowers – depending on the variety you have – over the course of several weeks.
Pop your Christmas cacti on a windowsill where it can enjoy plenty of indirect light and a bit of sunshine first thing in the morning. Some extra humidity, such as in a kitchen or bathroom, will help promote lots of healthy flowers. If well looked after they can last for years and will flower every winter.
Amaryllis
A potted amaryllis is a wonderful seasonal gift in any home. They produce wonderful large flowers in lots of amazing colour combinations. When your amaryllis stops flowering, cut the flower stem back to the base and place the bulb in its pot outside in a greenhouse, keeping it regularly watered but don't leave it sitting in water as it will rot the bulb.
Visit Carpenter's Nursery for a great selection of seasonal plants, whether you are looking for gift ideas or after a table decoration for the big day. We've also got a great selection of pots in different styles and sizes to accompany any plant.