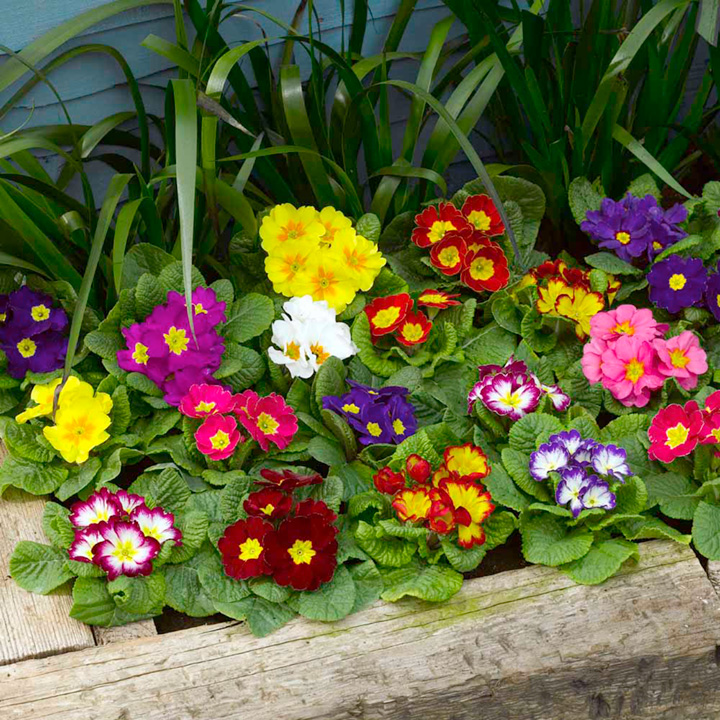 Primroses are one of the prettiest spring flowers. We love their bright, vibrant flowers and our customers love them too. Sometimes called an 'Easter Rose', primroses are one of the earliest blooming flowers in early spring. Once your primroses are in bloom, you know that spring isn't far away!
There are many different varieties of primrose, with different patterns and style of blooms. Some primrose flowers are dense and clustered whereas others have variegated patterned petals.
Early Season Primrose Flower Colours
In the wild, primroses grow in hedgerows, in woodland, along railway banks, and in grassy fields, but they can also be grown in the garden and in tubs and pots. If you plant some between your other spring bulbs, you can enjoy a riot of spring colour.
Primroses like damp, clay soils. They are fairly hardy plants and more than able to survive a light frost. However, harsh weather can spoil the appearance of flowers, we would recommend a sheltered position to keep them at their best.
Primroses are Ideal for Window Boxes and Pots
Pick up some pretty primroses and plant them in your window boxes and patio planters. They will give your garden some instant colour, even when the weather is still horrible and grey.
To plant primroses in containers and window boxes, fill them up with multi-purpose compost to the three-quarter mark. Place your primrose in the desired position and then add more compost to the container. The crown of the plant should be at soil level. Firm the compost down and water the primrose generously.
Combine Primroses with Spring Bulbs
Primroses can be planted under shrubs and among your spring bulbs. This gives a lovely woodland effect, which is great if you are cultivating a more natural garden design. They like a sunny or partially sunny spot, so bear this in mind when you plant them.
When planting in beds, dig in some mulch and leaf mould to add extra nutrients to the soil. This ensures your plants will flower well and remain healthy. If you need to replant the primroses at some point, that's OK. Primroses are very robust and can be moved to different spots as needed without any issues.
Maintenance and Care
Primroses are one of the easiest plants to grow. They are not susceptible to diseases and as long as you keep slugs away from them, they will thrive in your garden all year. One problem to watch out for is leaf spots. If you see any, remove the affected leaves, as this can turn into fungus.
Buying Healthy Primrose Plants
When you buy primroses from us, you don't have to worry, as all our plants are 100% healthy, but if you pick up any from somewhere else, make sure the plants you select look healthy and have unopened buds. You can grow primroses from seed if you prefer, but they should be planted in the autumn and raised indoors.
If you have any questions about planting primroses, just ask one of the team!