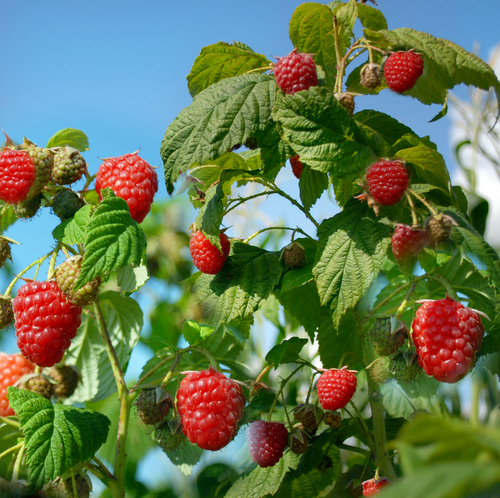 Raspberries are a lovely summer fruit. You can sprinkle them on cereal, make jam, and use them in desserts. Raspberries are also very easy to grow, so if you like the idea of planting raspberry canes now, ready for a summer harvest, we have some tips for you.
When Is
The Best Time to Plant Raspberry Canes?
The best time to plant raspberry canes is between November and March, as this is the dormant growth season. If you buy summer fruiting raspberry plants now, they will be ready to harvest in May/June. Autumn raspberries bear fruit between late August and October.
You can buy raspberry canes in containers or as bare-root plants. If you are not sure which variety to buy, ask us for advice.
What Conditions Do Raspberry Canes Grow Best In?
Raspberries like a sunny spot, although they will tolerate some shade. Plant your raspberry canes in a sheltered part of the garden, as they can be a bit leggy and strong winds will break delicate branches. Soil should be weed-free and well-drained.
Raspberry canes need support. You can use a post and wire system, or train them up a wall or a single post in a container. In a small garden, plant two or three raspberry canes around one post. Use garden twine to tie the canes to the post. If you have more room, plant your raspberry canes in a row, preferably north to south. String wire in horizontal rows and tie your canes to one side of the wire using twine.
Make sure the ground is weed-free before you plant your raspberries. Add a general-purpose fertiliser or compost to the site. If you are planting in a row, space your plants 1.5 to 2 ft apart. Use well-rotted manure mulch as a weed repellent blanket.
If you plant your raspberries in a container, use an 80:20 mix of general-purpose compost and heavier potting compost.
Feeding Your Raspberries
Raspberries benefit from a feed when you plant them. Use fish-bone or blood fertiliser or a liquid general-purpose fertiliser. If you use manure mulch, make sure it isn't too fresh, or the ammonia will burn new shoots.
Water your plants regularly so the soil/compost remains moist. Use a fertiliser once a month during the growing season.
Aftercare
Watch out for pests. Raspberries are susceptible to a variety of garden pests, so you need to be vigilant or your raspberry crop might be obliterated.
Raspberry beetles are the most common pest. All berry fruits are affected, not just raspberries. If you have raspberry beetles, your fruits will dry up and if you open up a raspberry, it may contain a white grub. There are pesticides that will kill the beetle and limit the damage, but the best solution is to switch to autumn fruiting raspberry canes.
Raspberry blight is a fungal infection. If you have blight, the canes will wither and turn brown. If you spot any signs, cut out the affected canes and disinfect your secateurs. Make sure plants are well-ventilated.
If you are lucky enough to have a glut of raspberries next summer, they freeze really well.
For more information click here.