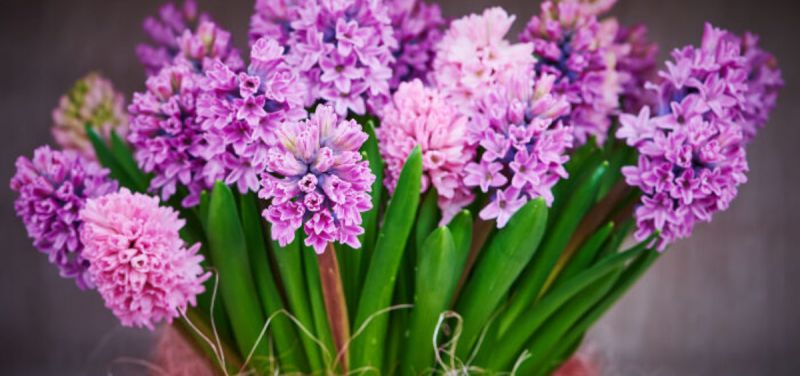 It may be cold, wet, and miserable outside, but we have plenty of beautiful seasonal plants to brighten up your home this year. Whether you are looking for a stunning poinsettia or cyclamen to add a touch of colour to the kitchen, or a flowering basket gift for a loved one, here are some fabulous pot plant ideas.
Poinsettia
Poinsettia plants are a classing flowering plant that's found in most homes over the Christmas period. With their festive red and green foliage, poinsettias make a lovely gift for friends and family, but will also look fabulous on your dining table. Poinsettias don't like drafts and cold temperatures, so if you need to store your plant before handing it over, bear this in mind. They don't need much water too, as they come from hot and dry Mexico. Poinsettias are also mildly poisonous to pets, so discourage them from chewing on the leaves.
Cyclamen
Cyclamen are pretty perennials that flower when most other plants give up on the idea due to inclement weather. Cyclamens are available in a range of lovely colours, from vibrant pinks and reds through to white. This is an easy plant to take care of, so pop some cyclamens in a gift basket and your lucky recipient can look forward to a blaze of colour all winter. Cyclamens prefer cool, humid environments, so don't give one to an aged relative who keeps their home at tropical temperatures.
Azaleas
Azaleas are a lovely easy-care plant. When grown outdoors, azaleas add interest and colour to a drab corner, but if you are looking for a pot plant to give as a gift this year, an azalea is a good choice. Give your friend or loved one a potted azalea and they can plant it out come spring. If well looked after, an azalea will flower each spring and complement other potted plants perfectly. They dislike being overwatered, and avoid placing your azalea in full sun, as it can burn the leaves.
Spring Flowering Bulbs
Spring flowering bulbs make an excellent gift. In fact, this is the gift that keeps on giving, as bulbs can be stored, kept dry over winter, and replanted to provide many years of colourful blooms, indoors and outside. We stock some great bulbs, so check out the following:
Hyacinths – fragrant hyacinths look beautiful, especially when presented in a pretty basket. Pop your hyacinths on a cool windowsill and look forward to a colourful floral display when the weather perks up again in spring.
Amaryllis – Amaryllis is one of the easiest flowering bulbs to look after, so they are great for people who manage to kill every other house plant. Plant your amaryllis bulbs over winter and they will flower until the end of June. The larger the bulb, the more flowers it will produce.
For a more interesting gift, plant a selection of different bulbs in a large planter so your recipient doesn't have a clue what to expect when spring arrives!
Flowering plants and bulbs always make a much-appreciated gift, so come along to Carpenter's Nursery and choose something nice this year.