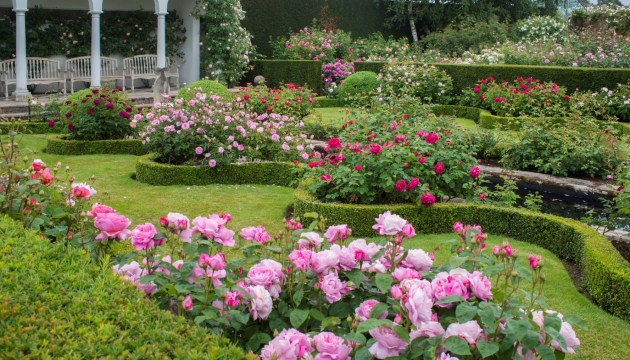 Roses are one of the UK's most popular plants. Beautiful roses are a fine addition to any garden. They are exceptionally versatile and can be grown in borders, containers, up trellises and walls, over pergolas, and used as ground cover. On a warm summer's evening, the perfumed blooms of a rose are wonderfully beguiling. Roses are also easy to cultivate and if you take care of your roses, they should last for decades.
The Carpenter's Nursery shop stocks several varieties of rose:
Hybrid Tea Roses
Hybrid Tea Roses are exquisite bud flowers. They grow upright, with a single flower on one stem. Hybrid Tea Roses come in a wide pallet of different colours. Some hybrids are scented; others not. If you want to plant a formal rose garden or create a flower bed for your roses, hybrids are our top pick. They also look lovely when planted along a border such as a wall or a fence.
Floribunda Roses
Floribunda Roses were developed by crossing hybrid roses with Polyantha Roses. These roses grow vigorously and are perfect for container gardening. They are bushier than a hybrid tea rose but not as dense as a polyantha. The stems of a Floribunda Rose typically spread out into large floral sprays, so they look equally good in a larger bed. If you plant your Floribunda Rose in a container, it will need to be kept moist at all times, so water at least once a day from spring through to late summer.
Patio Roses
Patio Roses are dwarf or miniature roses. They thrive in containers and pots on patios, hence the name, but can also be used to fill gaps in flower beds or add colour to a neglected corner. Patio Roses are available in a broad colour palette and their elegant shape and small size makes them a popular choice for anyone looking for a colourful, manageable plant for their patio.
Carpet Roses
Carpet Roses are an easy-care ground cover plant. They require very little maintenance and are resistant to most diseases. If you have an area of the garden you want to fill with low-maintenance flowers, carpet roses are our top pick. Once a Carpet Rose plant is well established, it can easily produce around 2,000 blooms in a year. All you have to do is cut it back in early spring and keep the plant moist for the first six months and you are good to go.
Climbing Roses
Climbing Roses are perfect for walls, fences, trellises and pergolas. They can be trained to grow over anything, including architectural structures and garden ornaments. Some varieties of Climbing Rose are exceptionally fragrant and in the height of summer, your nose will be assailed by a deep perfume each time you set foot outside. If you are looking to mask an unsightly wall or fence, we heartily recommend Climbing Roses.
Speak to one of the Carpenter's Nursery team if you would like more advice on roses or any other plant. We are always happy to help!