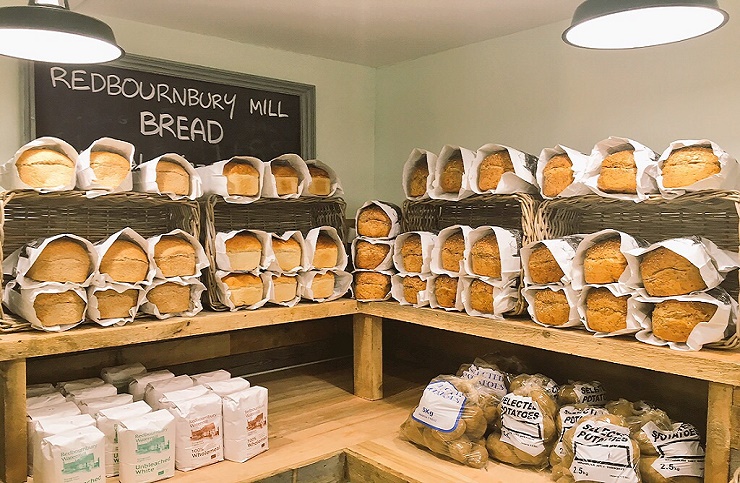 The Great British Public love a good local farm shop. It's a chance for everyone to buy produce direct from growers rather than selecting pre-packaged fruit and vegetables in a sterile supermarket environment. Farm shops are good for everyone, so let's find out why!
Firstly, a diversified food chain is important to provide choice to consumers. If we allow only a few companies to supply food it limits choice and we become vulnerable to supply shortages or price spikes. Although we all want to be able to purchase food and reasonable prices, we must also ensure that farmers, growers and produces are paid a fair price for their products.
Carpenter's Nursery & Farm Shop have been selling fresh fruit and vegetables direct to consumers for more than 90 years. Back when we started our business, farm shops didn't exist, we just had a simple stall on the side of the road and at the market. In recent years farm shops have become an important place for local producers to sell a vast range of food products directly to the public.
Most of us are accustomed to buying fruit and vegetables in the supermarket. Produce there is often pre-packaged and shipped thousands of miles. It may have spent a week or more in transit and you won't ever meet the farmer who planted the seeds or cultivated the crop to find out how it is grown and whether staff are treated and paid well.
When you buy seasonal vegetables from Carpenter's you will have a choice of our own produce, grown at our Sandridge site and vegetables sourced from farms in and around Hertfordshire, Cambridgeshire & Lincolnshire. We harvest our own crops everyday and buy in produce we don't grow every morning to guarantee freshness. There are of course things that can't be grown in the UK and have to be sourced from overseas, mainly fruit and salad crops during the winter. Although we stock these due to customer demand, we encourage people to buy seasonal crops that are grown in the UK.
Good for the Environment
Buying fresh produce from local growers cuts down on food miles & CO2 emissions. We plant and harvest all our crops by hand without the use of pesticides and chemicals. This is much better for the environment than buying mass-produced fruit and vegetables.
Good for the Local Economy
We support many local businesses and jobs by stocking their produce,. Visit our farm shop and you can pick up all kinds of interesting products. We sell locally produced granola, cheese, honey, oils, bread free range eggs, beers and more. We even sell locally distilled gin and handmade chocolate if you want to treat yourself!
You don't need to wrestle with the crowds when you visit the Carpenter's Nursery farm shop. You can browse the shelves at your leisure and if you need some advice on what to buy, just ask! We don't claim to be experts on nouveau cuisine, but we do know all there is to know about carrots and cabbages!
Although, not everyone has a local farm shop or are unable to use one regularly, doing so is a rewarding experience.
We hope to see you soon!