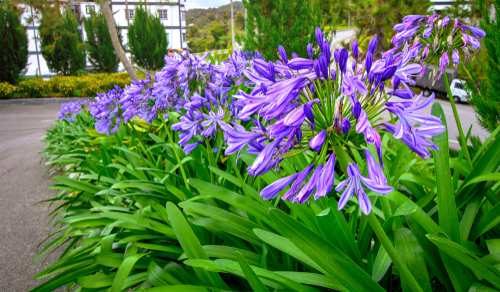 For anyone who needs an "insta-garden", herbaceous perennials are where it's at. With some careful planning, you can fill your borders up with relatively inexpensive herbaceous perennials and have a beautiful display of colour in a few short months. The effect is not quite as instant as a tray full of pansies or petunias, but unlike bedding plants, perennials come back year after year.
The Beauty of Herbaceous Perennials
The great thing about perennials is that they grow very fast. It takes very little time for a small plant to mature and fill the gaps in a border. These hardy plants die down in autumn, but the roots remain underground. By the time spring arrives, your hardy little perennials will explode into flower and your borders will be a riot of colour.
Preparing the Ground
Soil needs to be weed-free before you plant perennials. Since you won't be lifting these plants over winter, the last thing you need is to have your plants fighting for light and nutrients with a tangle of weeds. Perennials grow fast, so they consume a lot of soil nutrients. It's a good idea to enrich your soil with well-rotted manure or good quality compost before you start planting.
When winter comes, and your perennials die back, don't be tempted to chop away dead growth. Small creatures will happily use dead plant stems as a home over winter. Once spring arrives, you can cut back the dead stems, ready for new spring foliage.
Popular Perennials
You are probably familiar with most of these perennials, but here are some of our most popular varieties:
Lavender – Fragrant lavender is one of Britain's best-loved perennials. Adding lavender to your herbaceous border guarantees your beautiful, scented purple flowers over summer. Lavender plants are very hardy but make sure you prune the plant back in autumn to encourage new growth in the spring.
Geraniums – There are dozens of varieties of geranium. These plants are very tolerant of most growing conditions and they are especially useful if you have shaded areas in your borders. Use geraniums as ground cover plants or to fill in gaps. They also grow well in pots.
Sedum – Sedum is very popular. It's super easy to grow and it has a longer than average flowering season. Sedum will tolerate drought and unlike many other perennials, it is happy growing in coastal gardens. Add sedum to your herbaceous borders and your garden will be full of bees and butterflies in the summer.
Phlox – Phlox is fragrant and showy. The Phlox produces tall, pretty flowers in various shades of pink, purple, and white. Some varieties don't mind shade, so it is a very versatile plant.
Rudbeckia – This popular perennial produces large, yellow daisy-like flowers in late summer. Pollinating insects love Rudbeckia, so if you want to attract bees, add some to your borders.
Lupins – Lupins are amongst the most colorful border plants. The tall full flower spikes are very prominent and perfect for creating striking combinations .
Foxgloves – With their long tubular flowers foxgloves are seen as one of the most distinctive garden plants.
If you need any advice about which perennials will work in your garden, speak to one of the team at Carpenter's Nursery – we are always happy to help!