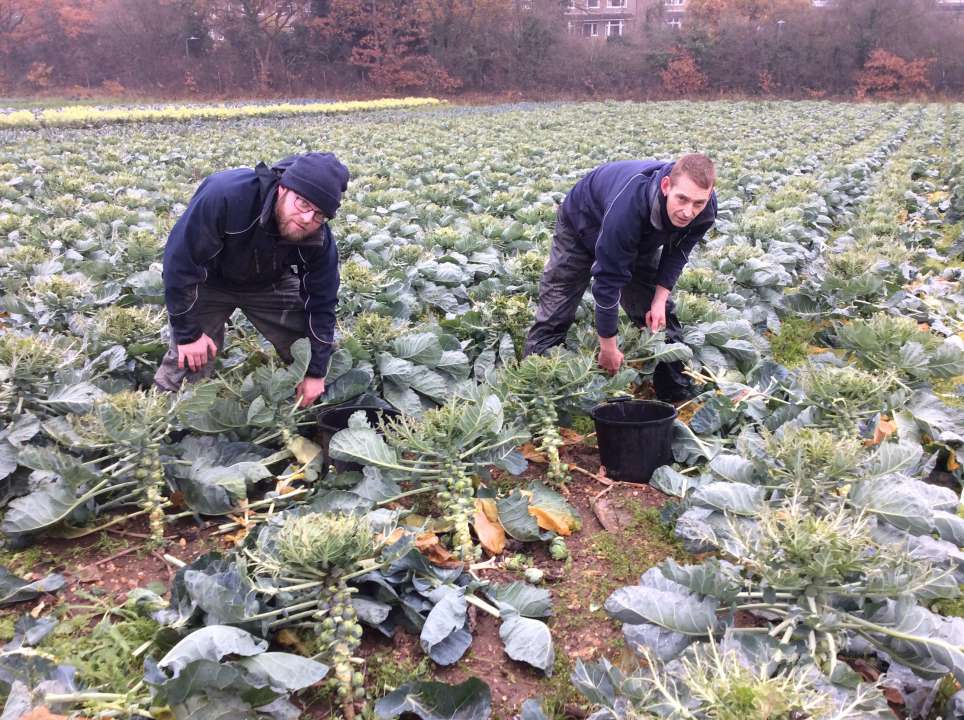 Here at Carpenter's Nursery, we love sprouts and we want you to love sprouts too. They taste delicious, they are full of essential nutrients, and look fantastic on your plate!
The Battle of the Sprouts
Every year, the Carpenter's Nursery team take part in a Battle of the Sprouts. Three men compete to become the Brussels Sprout Picker of the Year. It's a bit of fun, but we like to encourage some competitive picking in the field!
David Egarr, Stephen Carpenter, and the youngest member of the team, Carl Hills, compete against each other to pick as many Brussels Sprouts as they can within a specific period of time. There can only be one champion, so the competition between the three of them is fierce. David Egarr is the reigning champion, but he's going to have to work super hard in 2017 to keep his crown!
A Brassica Vegetable
Sprouts are a member of the Brassica family. Ripe Brussels sprouts are typically the size of a walnut and they resemble miniature cabbages. They are the quintessential Christmas dinner vegetable, but we Brits love to eat them whenever they are in season. Brussels sprouts are believed to have originated from gardens in Brussels, several centuries ago. Today, Belgian gardeners probably still grow Brussels sprouts, but we reckon the Brussels sprouts grown in the Carpenter's Nursery fields are tastier.
Cultivating Sprouts
We sow our Brussels sprouts early in the year. Seedlings are carefully nurtured in the protection of our greenhouses around mid-May before being planted out once they have reached a reasonable size. Brussels sprouts need to be protected from strong winds and they prefer a nice sunny site. We look after our Brussels crops all summer long, watering them during dry spells and keeping the pigeons away! When they are ready to harvest, we remove each ripe sprout from the plant stem, snapping them off with our hands, starting from the bottom and working our way up, plucking sprouts as we go. The Brussels sprouts are placed in plastic boxes, taken back to the Farm Shop, and put into cold storage They are then ready for you to buy in the Carpenter's Nursery Farm Shop.
From Field to Fork
Early varieties of Brussels sprouts are available for harvesting in August but sprouts taste best when they have been exposed to frost and are freshly harvested. All our sprouts are freshly harvested, early in the morning, so when they arrive in the Carpenter's Nursery Farm Shop, they are at their absolute best.
You can buy Brussels sprouts loose or on the stem. They freeze very well, so if you want to buy your Brussels sprouts in plenty of time for Christmas, pop them in the freezer and cook them from frozen on the day. They have a delightfully nutty flavour and are delicious when served up with melted butter. For extra flavour, pan fry in butter with some chopped lardons and baby shallots.